We offer quality logistics solutions, creating value through innovative and sustainable projects.

Our destiny is to have no borders: it is to shorten distances, connect companies to new businesses and customers, and connect people to their dreams.
WHY WE INNOVATE
We use higher-power and lower-cost pushers (azimuthal technology) in the South American waterways;
We serve our customers with assets that are capable of handling with restricted draft on the Paraná-Paraguay waterway
We implemented integrated logistics system an integrated logistics system for moving grain and fertilizers in the Northern Arc;
We pioneered the creation of the world's first electric shunting pushers, which will begin operating in 2022;
We pioneered in fertilizer handling in the North Arc;
We are pioneers in training with virtual reality.
Waterway transportation
Our fleet is made up of 27 pushers and more than 300 barges, carries the continent's riches over rivers and regional waters: the best solution for transporting commodities quickly and sustainably.
Terminal operations
We operate cargo transshipment terminals and various port terminals for the export and import of products in South America.
Coastal Shipping
We use the navigable potential of the coast of the continent for transportation between ports, with customizable solutions and using our own assets.
Modal Integration
To meet the needs of our customers, we combine two or more services, seeking the best solution for each business or context.
Contact our commercial team to evaluate the best logistics solution for your business: comercial@hbsa.com.br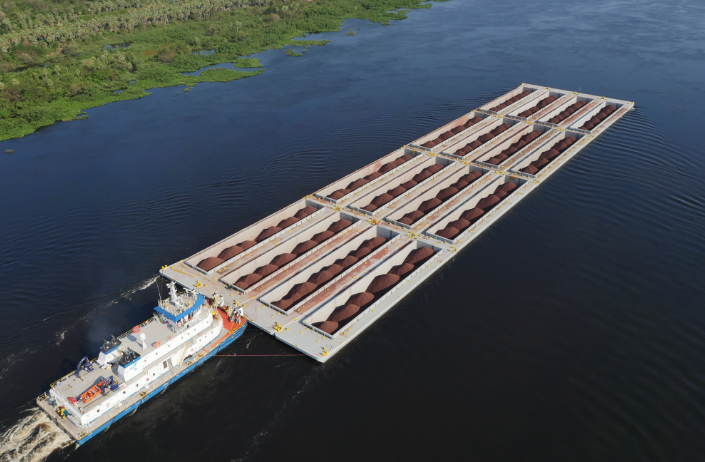 Porto Velho
Estamos investindo em uma nova operação em Rondônia para ampliar o atendimento ao setor do agronegócio, complementando a necessidade de facilidade e ganho de tempo no escoamento da produção às demais regiões do País. A Hidrovias do Brasil adquiriu uma área rio abaixo de Porto Velho e está avaliando o crescimento de mercado da região para avaliar esta operação.